Did you know? According to
Wiki
The Dublin Irish Festival is an annual music and cultural festival held in Dublin, Ohio. It takes place during the first weekend of August, and it attracts an over 93,000 visitors to eight entertainment stages on 27 acres in and beyond Coffman Park. Activities include Irish and other Celtic music, genealogy, food and drink, dance, cultural exhibits, games, sports, arts and crafts, and children's activities
The event, produced and supported by the City of Dublin, is one of America's largest Irish festivals. The Columbus Feis, an internationally renowned Irish dance competition, occurs every year at the same time as the Irish Festival.
Columbus Feis 2004 Statistics
6047 Individual Competitions
1515 Registered Competitors
97 Adult Ceili Dancers
88% of the participants are female
87% of the entries were made through the Internet
Registrants are from 338 Cities
Registrants are from 20 States / Provinces
Registrants are from 65 Schools
This is Isabella finding her name on the results board at he Columbus Feis.
Isabella in her winning jig at the Columbus Feis.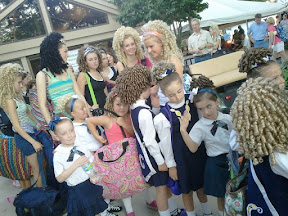 Here is a group of girls waiting to perform at the Dublin Irish Festival. Isabella is at the bottom.
Location:Dublin Irish Festival,Dublin,United States
- Posted from my iPad